Open the Door to Your Future
Susan M.Larson, M.Ed, NCC - Transition/Reinvention Coach
Getting Started:
The Life Planning Wheel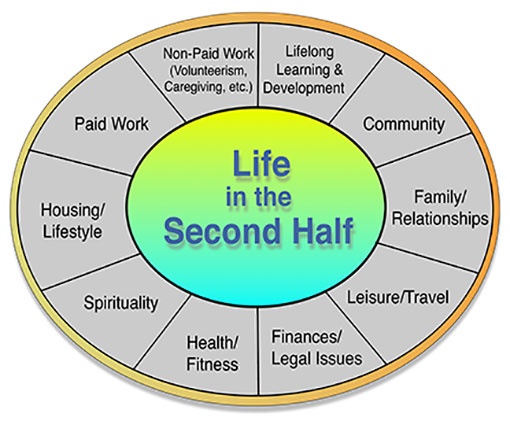 The Life Planning Wheel
The Life Planning Wheel is useful to pinpoint 8 key aspects of our lives to focus on and use to evaluate and realign for optimal living as we mature. We can use this wheel to see what aspects of our lives need our most immediate attention/time and also evaluate our satisfaction with each of these aspects going forward and where we desire to make needed changes.
Getting Started:
We often start off by focusing on what you come in knowing and where you are in either a planned or unplanned transition period in your life. Using William Bridge's Transition Model and the Life Planning Wheel (see above), we partner to customize your transiton/reinvention process, deciding where to begin addressing pressing needs/priorities) and the best approach, pace and resources to utilize.
Individuals gain the most in the coaching partnership when they can set aside time to work on the process between coaching meetings and when they employ the 3 R's: Rapport Building, Resourcefulness, Resilience/Resolve.